Exit: the game is one of the most popular modern table top games, and it's one of the best escape room games. By popular demand, Exit released a total of 17 games, with more coming soon. In this post we tell you which Exit game is the best, as well as which Exit game to start with, based on our ranking by both quality and difficulty.
To determine which Exit game is the best we rank all Exit games on three criteria:
Puzzles: is each puzzle in this Exit game solvable by skilled players? Are the puzzles fun to solve or are some tedious? Do the puzzles challenge the players to think differently, sometimes using logical analysis and sometimes creativity?
Story: Does this exit game have an engaging story, or is it merely a string of disconnected puzzles? Do you feel that you're progressing towards the main objective of the game with each puzzle you solve?
Originality: Is this Exit game something new? Or are some of the puzzles or story points unsurprising and underwhelming?
We combine the scores on these three criteria to determine which Exist game is the best.
Exit: Dead Man on the Orient Express is by far the best Exit game in our opinion. In this Exit edition you are the inspectors in a new twist on the old murder mystery: murder on the Orient express. Without spoiling anything, we can say that you'll be solving the murder case by interrogating suspects, finding evidence and verifying alibis.
The 'puzzles' are more engaging than in any other Exit game. For a lot of them I would even hesitate to call them puzzles, because they really require you to put together different pieces of evidence. You'll be making inferences like 'but if the waiter was spying on the guests, he couldn't have been in the kitchen when the murder happened!' (this is a fictitious example, there isn't a waiter in the real game – so he didn't do it).
The story is also by far the best of any Exit game. Each puzzle you solve brings you closer to finding the murderer, so you never lose track of your main objective. There aren't any puzzles that don't feel essential to you solving the case.
And don't let the 'expert' difficulty level discourage you. We actually found this one of the easier Exit games we played, certainly easier than the Abandoned Cabin (which people often recommend as the best Exit game for beginners). We had  to take a few clue cards, but that didn't make the experience any less fun for us.
So if you're asking yourself which Exit game you should buy, we recommend Dead Man on the Orient Express above all others. We would even recommend this as the Exit game you start with, because it's so much fun and not too hard at all (but if you're really worried about the difficulty, we recommend you get it together with The Enchanted Forest and play that one first).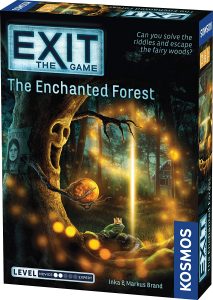 Exit: The Enchanted Forest is the best Exit game to play with kids. It has a nice fairy tale theme with many fairy tale creatures that kids are familiar with.
The puzzles are all fun and generally on the easy side. It's definitely one of the easier games in the Exit series, so if you're an experienced escape room gamer you might want to pick a harder one.
On top of that this game has the most beautiful artwork in the Exit series. This is nice because the Exit series doesn't always put so much effort to make the game look good.
So the Enchanted Forest is a great game for beginners in the escape room genre, as well as for families that want to play an escape room game together with their kids.
Exit: The Sunken Treasure is the best Exit game for beginners. If you don't have any experience with escape room games and are worried they may be too difficult, you should start with this one.
The puzzles in this game are not too hard (if you're experienced you'll probably even find them too easy), but they're still really fun and quite original.
But what's even more important for beginners than that the puzzles are not too hard, is that this Exit game let's you work on only one puzzle at a time. Most other Exit games give you multiple puzzles at once, and it's up to you to work out which ones you have to solve first. This can be fun, but it's also very easy to lose track of what you have to do.
Like we said earlier, we think most beginners could start with Exit: Murder on the Orient Express, because it's not too hard either. But if you're worried that these escape room games might be too difficult, we recommend you get both and you start with this one as a training exercise.
Exit: Theft on the Mississippi is another 'Who Dunnit?' mystery novel edition, and another one of our favorite Exit games.
Just like Dead Man on the Orient Express, this one scores full points for the story line. Every puzzle bring you closer to your overarching goal of finding the thief.
The puzzles in this game are mostly great, although there's one that we got stuck on. After some internet research, we found out that a lot of people got stuck here and it seems to be a minor production error that makes the puzzle (near) impossible to solve. This is of course very frustrating, especially if you avoid using the hints – but it shouldn't be a major hiccup.
So if you're a fan of Dead Man on the Orient express, or generally a fan of mystery novels, you should definitely pick up Theft on the Mississippi (and if you really get stuck make sure you take a hint).
Exit: The Catacombs of Horror is the biggest, hardest and darkest Exit game. It's a 2 part game so it's about twice the size as a normal Exit game.
Catacombs of Horrors one was intended by the creators to be the most difficult Exit game, and it definitely is. So you should definitely play two or three other Exit games before you try this one.
Fair warning: the theme of this game is really much darker than the other Exit games. There's a lot of demonic stuff going on. For most groups of adults this shouldn't be a major concern, but if you know you don't like this kind of theme, skip this game.
If you are an Exit veteran then Catacombs of Horror is the ultimate test of your skills, and you should get it. (If for whatever reason you don't want to get his game, we recommend Pharaoh's Tomb instead, which is the second most difficult Exit game.)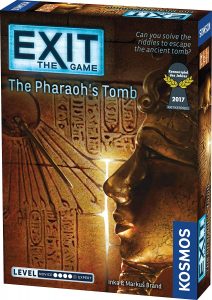 Exit: Pharaoh's Tomb has the same thing going for it as Catacombs of Horror: it's very hard. But Pharaoh's Tomb doesn't have such a dark theme and it has the same length as any other Exit game, which is why some people prefer it over Catacombs.
This game is meant for the experienced Exit players. So first train yourself on a few other Exit games, and then play this one to test your skills!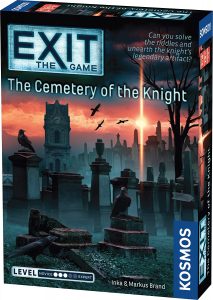 Exit: The Cemetry of the Knight is the newest Exit game! And it's a good one.
There are some surprising new puzzles again in this one. It's really impressive from the Exit series that they're able to continually innovate on this product line.
The story is fun too and I personally like the theme. So this is definitely another pickup if you like and own many Exit games.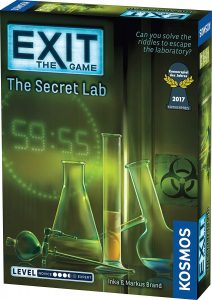 Exit: The Secret Lab is a solid Exit game, especially for beginners. This is definitely one of the best Exit games to start with.
This game is solid, the puzzles are nice and interesting but not too hard, and the story is pretty fun.
So we don't have much to say except that this is one of the good ones!
Exit: The Mysterious Museum is another good one, especially for beginners.
It has quite a fun story. The puzzles are mostly fun, albeit a bit on the basic side.
So it doesn't really stand out from the crowd, but if you like the theme it's definitely an Exit game you can pick up!
Exit: House of Riddles is another good Exit to start with. It's one of the easier ones.
We like some of the other easy ones better though ,which is why they're higher on this list. But there's nothing wrong with House of Riddles!
Exit: The Haunted Roller Coaster is fine, but it's not our favorite.
The story is exactly what you would think given the title, so it's fine but not anything special.
The puzzles are actually pretty hard for its 'novice' difficulty rating, so we don't recommend you start with this Exit game.
So this one's not our favorite, but if you like Exit games, you will still enjoy it. There are some novelties in here that make you excited when you get them.
Exit: The Sinister Mansion is a good Exit game. It's slightly harder than some of the other novice rated ones, so not one you should start with though. The prime thing that makes it harder is that you don't necessarily draw the riddle cards in the order that you need to solve them.
The story isn't anything special but it's adequate.
So this is another Exit game you can pick up for your collection.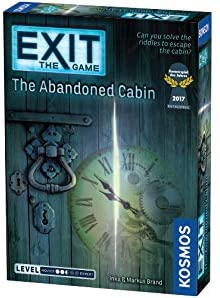 Exit: The Abandoned Cabin has the most and the best reviews of any Exit game on Amazon. This is partly because it's good, but it also has a lot to with it being the first released Exit game. If it were released later, we think it would be much less popular (it would still be decent, but certainly not the best).
The Abandoned Cabin is also often recommended as the best Exit game to start with, but we disagree with this. It's ok to start with, but it's neither the easiest nor the most fun. We recommend starting with Exit: The Sunken Treasures, The Enchanted Forest, or the Secret Lab instead.
In our opinion, the Abandoned Cabin has very little story, and quite a few of its puzzles are meh (some are even a bit tedious). We still really liked playing it at the time, but we do think that the newer Exit games got much better still.
This one you can still play and enjoy if you're into the series, but we would advise to buy at least 5 other ones before you get this one.
It may just be us, but it feels like the makers overextended themselves to be clever on this one, which leads to leaps in logic that you won't understand as a player. When we took a clue or solution card in this game, we never thought 'Aha, that's what they meant' but always 'How we were supposed to know that?'.
This one is similar for us to the Forbidden Castle. Too many leaps in logic for us.
But maybe we're just dumb?
We don't usually give negative reviews on this website because we believe each game is unique and there's a player to love every game, even if we don't like it ourselves. But, we really didn't enjoy Exit: The Stormy Flight. We just didn't enjoy the story or the puzzles.
That's ok though, there's plenty of other Exit games to choose from in this list!
This is in our opinion the worst Exit game. A lot of the puzzles required impossible leaps of logic, and we also didn't like the story. So we don't recommend this Exit game at all.
So what is the best Exit game?
In this post we laid out our favorite Exit games for you.
We hope that whether you're a beginner, a veteran or somewhere in between, we helped you find the best Exit game for you!